Happy Friday Chargers!!! As we wrap up our first week of the 2nd semester, we wanted to highlight some of the wonderful things happening with our CTA Elementary kiddos! It was great getting our In-person learners back on campus and they jumped right back into the swing of things so smoothly. Today was also a wonderful success, allowing our teachers to connect with our Virtual students LIVE both individually and in small groups. All in all, it was a great week to be a Charger!!! 💙⚡🌎 #wearechargers #ctaworldchangers @charterschools @ferrisstateu @cultivatingcourageouschargers @teachermom4life @ctachargers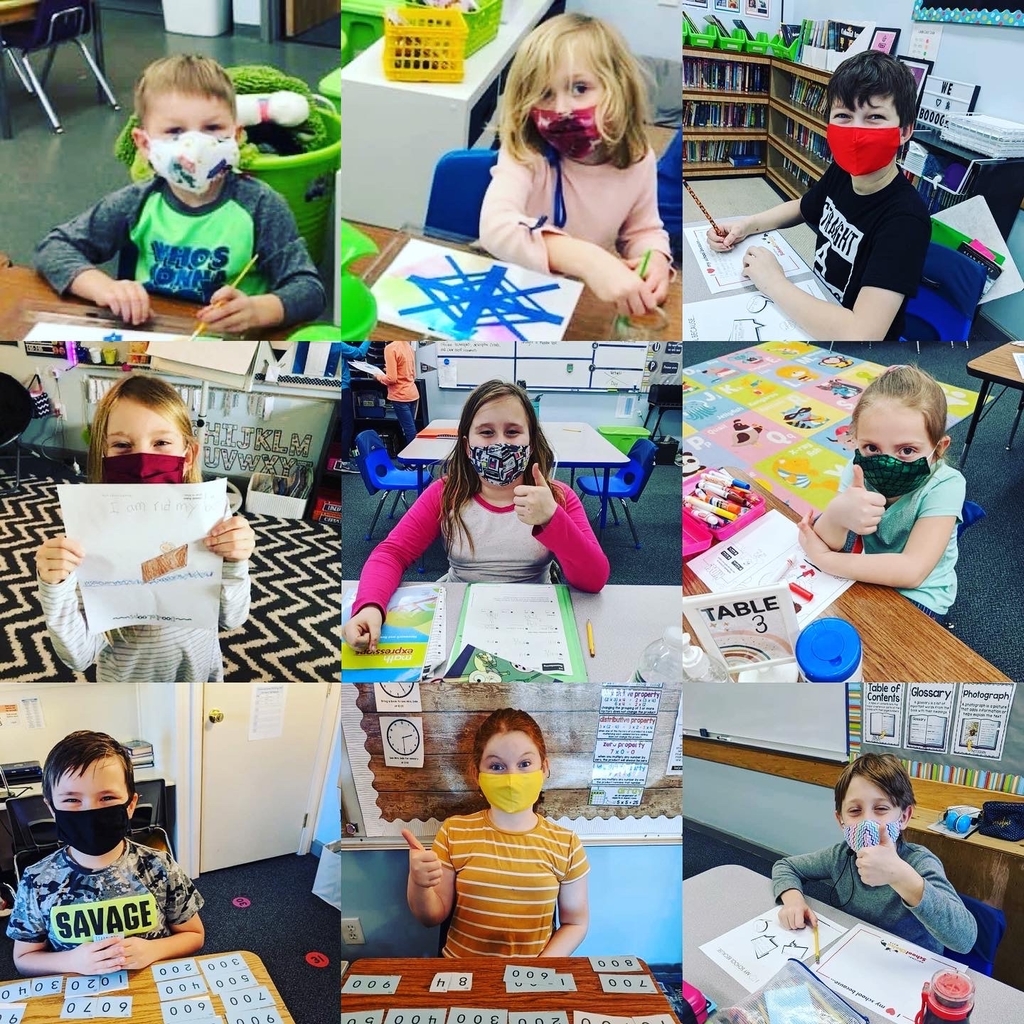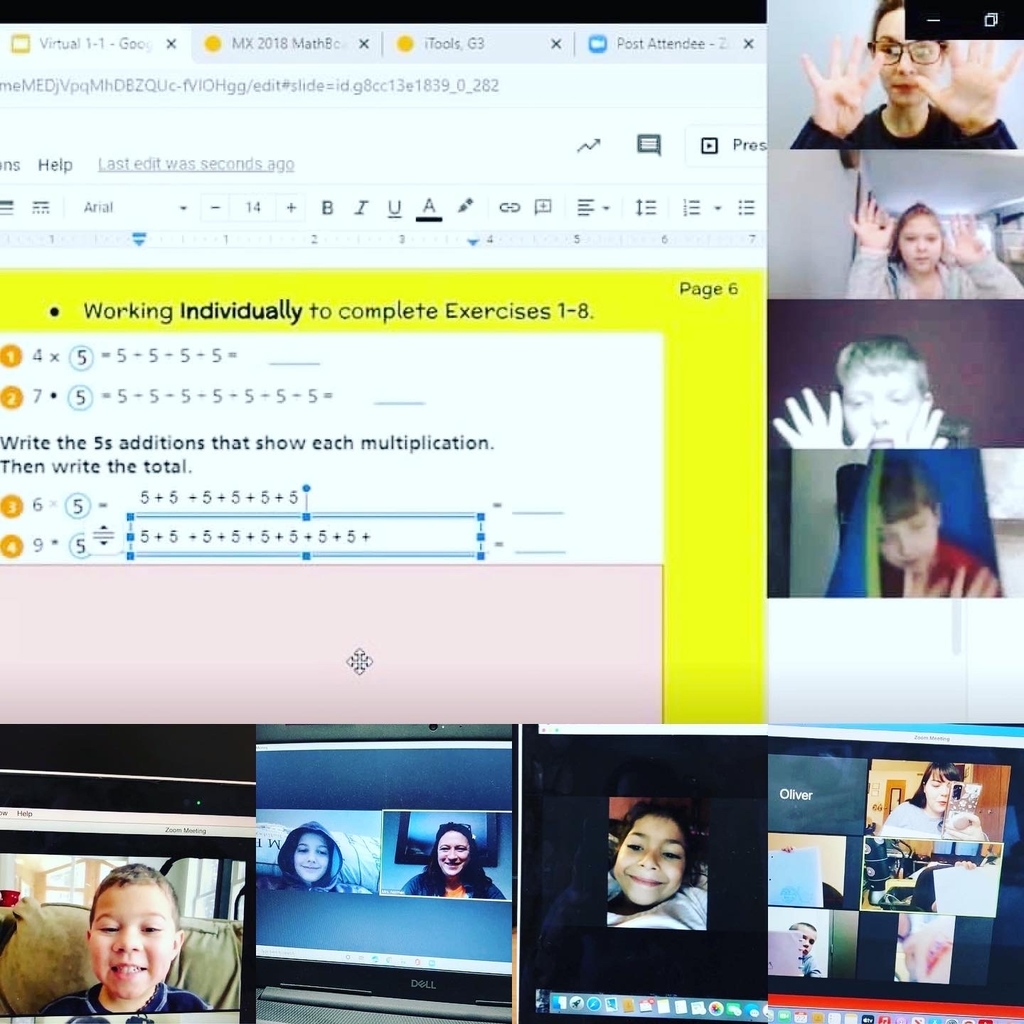 Happy Thursday, CTA Family! This month's Teacher Feature showcases our K-12 Special Education Department as well as our K-5 Teacher Aides. This team of humans goes above and beyond each day supporting our classroom teachers and our students in so many capacities. Please give a shout out and share your gratitude for these World Changers!! 💙🌎 #wearechargers #CTAWorldChangers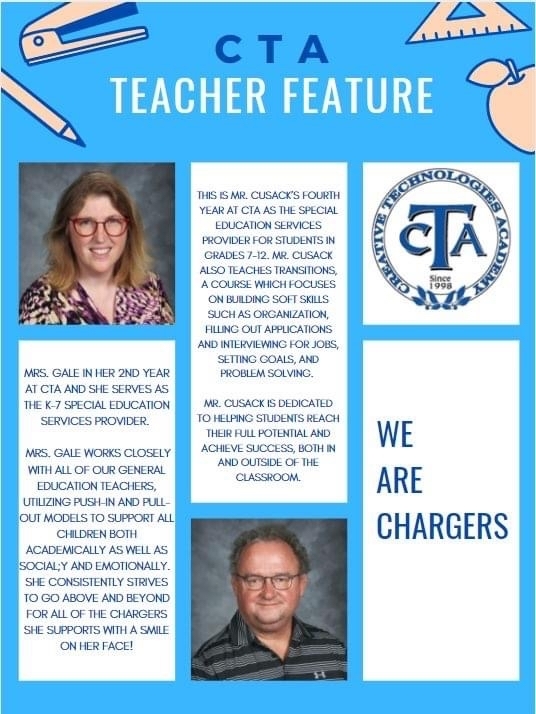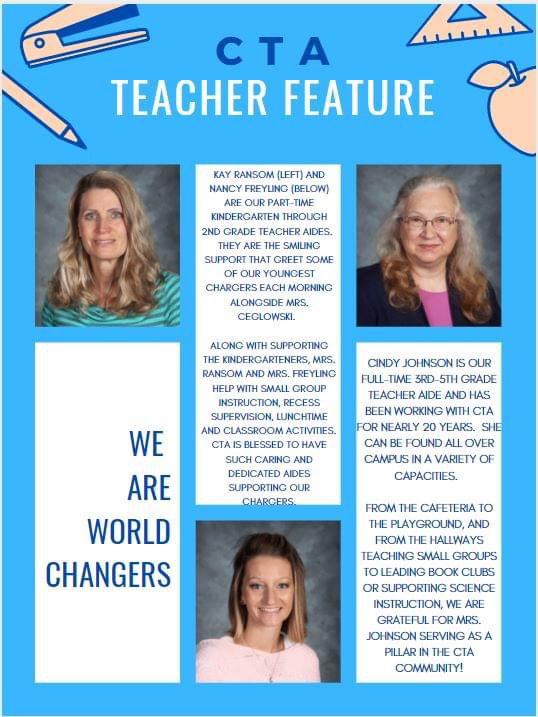 This morning we had the privilege of visiting Ms. Norman's @funlovingfourthgrade room and walked through the States poster gallery created by our awesome 4th grade @ctachargers. Due to going remote, they have been waiting patiently to showcase their work - but it was well worth the wait! Learning about the uniqueness of each state in our country is just one of the many steps towards becoming World Changers!! Thanks Ms. Norman for this continued tradition! #wearechargers #CTAWorldChangers 💙🌎 @charterschools @ferrisstateu @teachermom4life @cultivatingcourageouschargers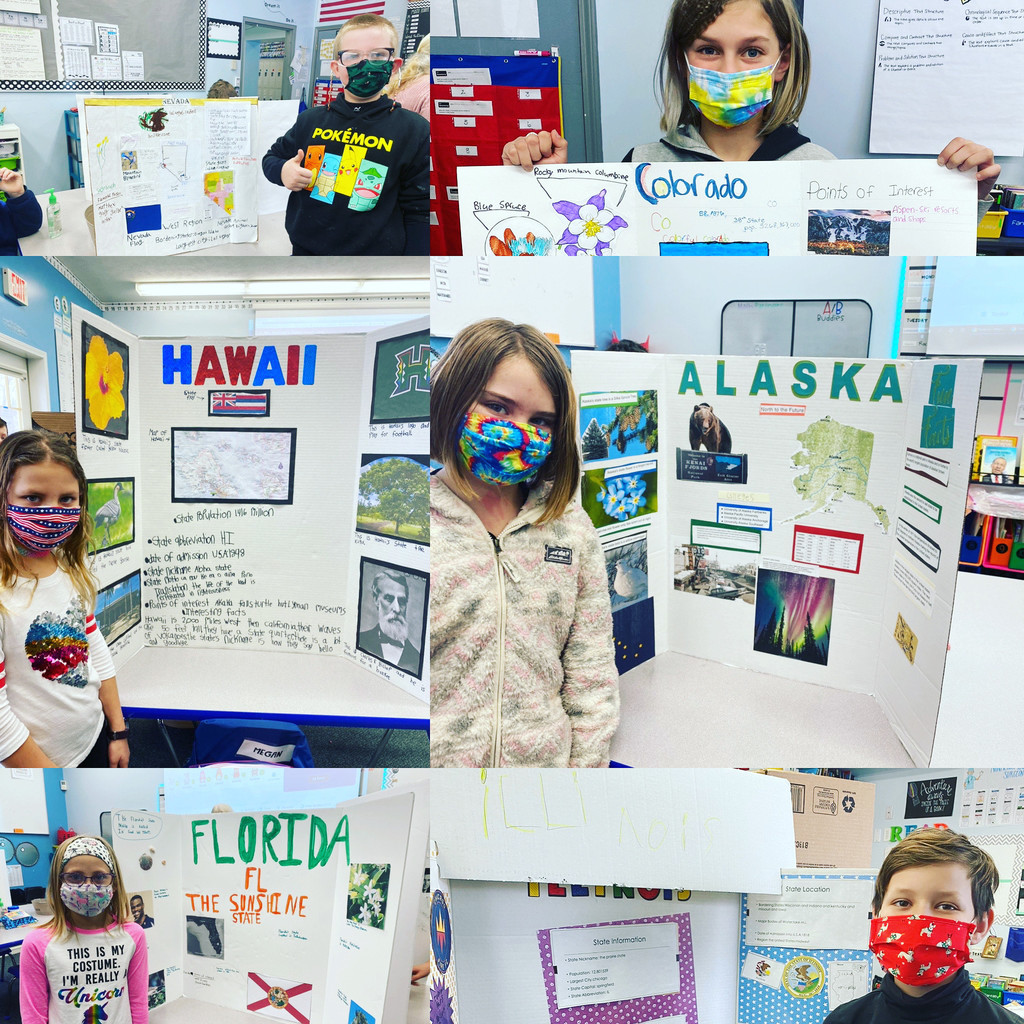 Congrats to our very own World Changing 2014 CTA Alumni Alicia Kelley!! She has published her very own children's book! Alicia writes: "When I was in high school, I wrote a children's book for my senior project, with the hopes of someday having it published. Well, that "someday" came a few years later than I originally anticipated, but it's finally here! "See You Later, Alligator" is a few short days away from publication.The last few years this project has been in the back of my mind as well as the dream of becoming a bestselling author. I have another book that's currently being illustrated, but I'll keep that as a surprise for another day. 😉 Join my author's Facebook page to see important updates, stay current with my work, and have a little fun exploring the wonderful world of children's literature!"
https://www.facebook.com/Author-Alicia-Kelley-111428907426877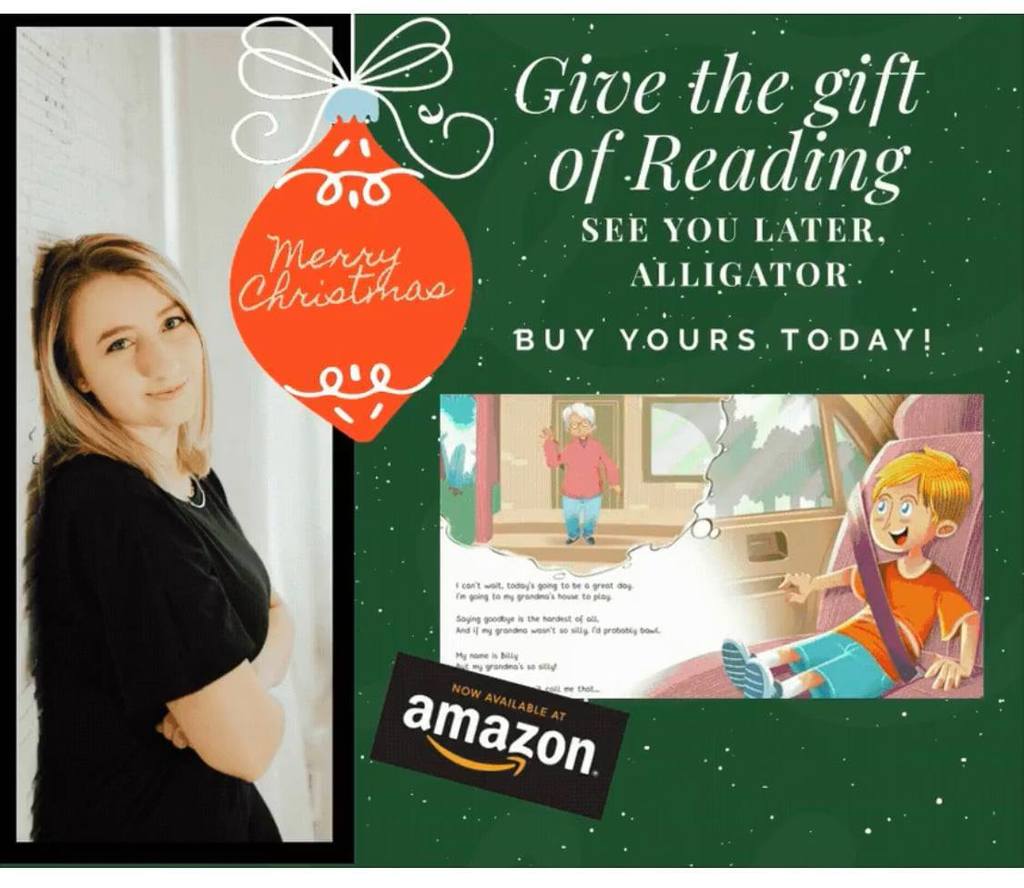 Happy Friday!! This year we want to take time each month to showcase the amazing teaching staff that work here at CTA. Keep your eyes out for our monthly "Teacher Features!" This month, we are taking a moment to highlight Mrs. Kayla Campbell, Mrs. Amy VanHarten, Mrs. Jenny Bangma and Ms. Trisha Fues!! While each of these educators hold unique and individual talents in the field of education- one thing they share in common at CTA is that they fulfill many, many roles which support teachers and students alike. And despite the many spinning plates they hold, they maintain constant flexibility with smiles on their faces. 😊💙🌎. #wearechargers #CTAworldchangers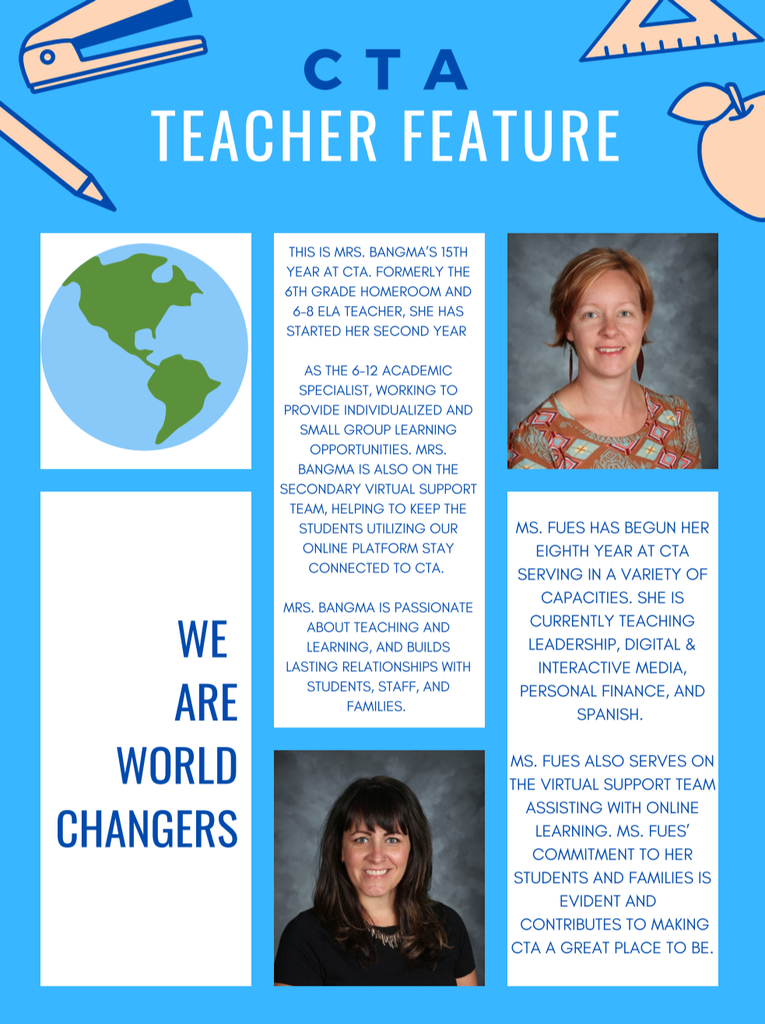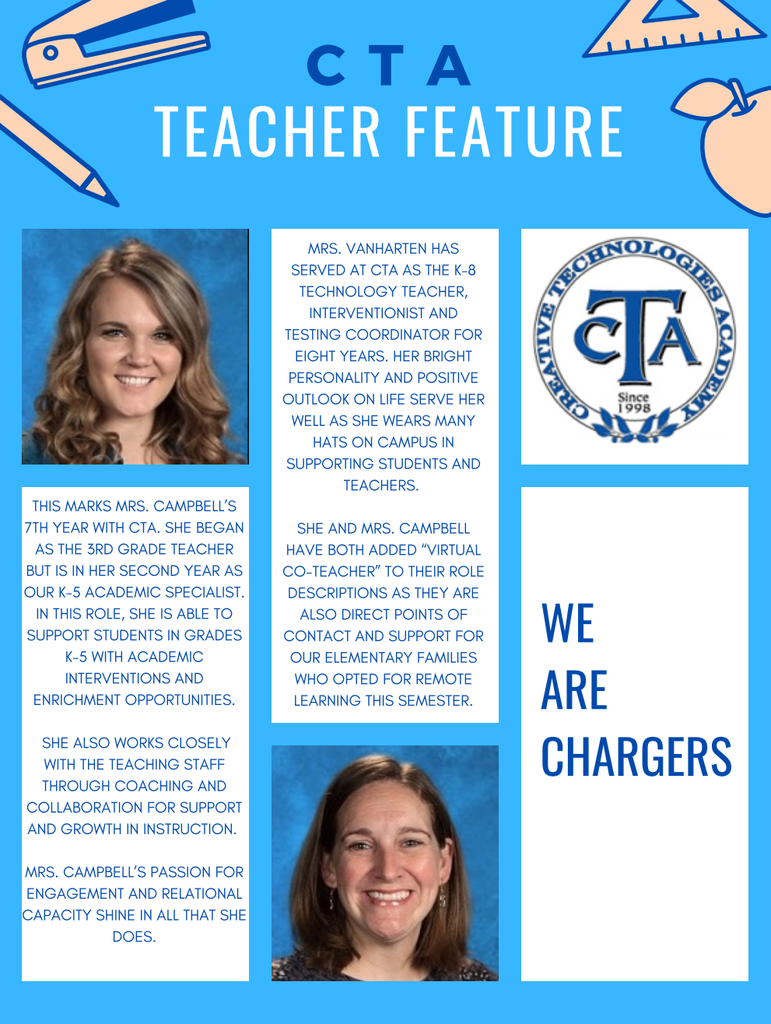 Keep up on your reading this summer by joining KDL's Summer Wonder reading program! It's the same 30-day goal for all ages. Tracking progress is super easy by using KDL.beanstack.org or the mobile app. This program also includes writing and at-home STEAM activities! All programming will be virtual this summer. Check it out at:
https://www.kdl.org/summer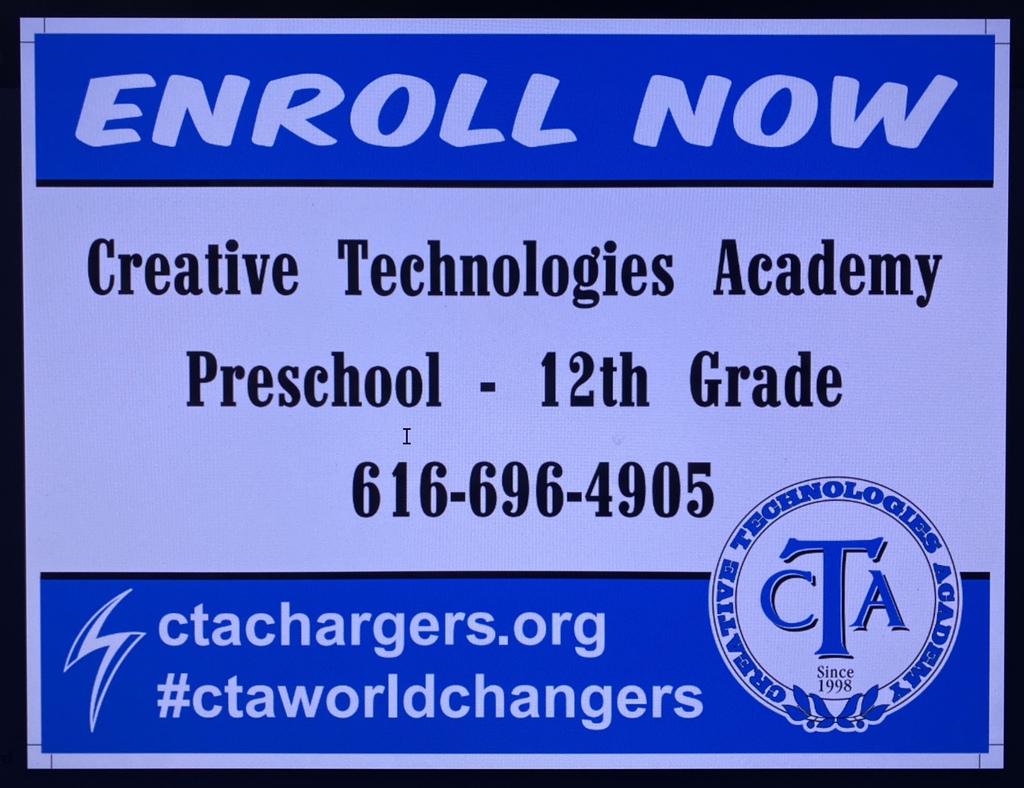 Enrollment for the 2020-21 school year is going on right now!!! Please share this information with friends and family that may be interested. To schedule a virtual tour, meet with an administrator, and pick up a registration packet, please contact: Kate Bialkowski, Elementary Principal
kbialkowski@ctachargers.org
Jennifer Colin, Secondary Principal
jcolin@ctachargers.org
Autumn Mattson, Superintendent
amattson@ctachargers.org
Or call: 616-696-4905 We can't wait to give you a tour and share all the amazing opportunities we offer for ALL kids!!!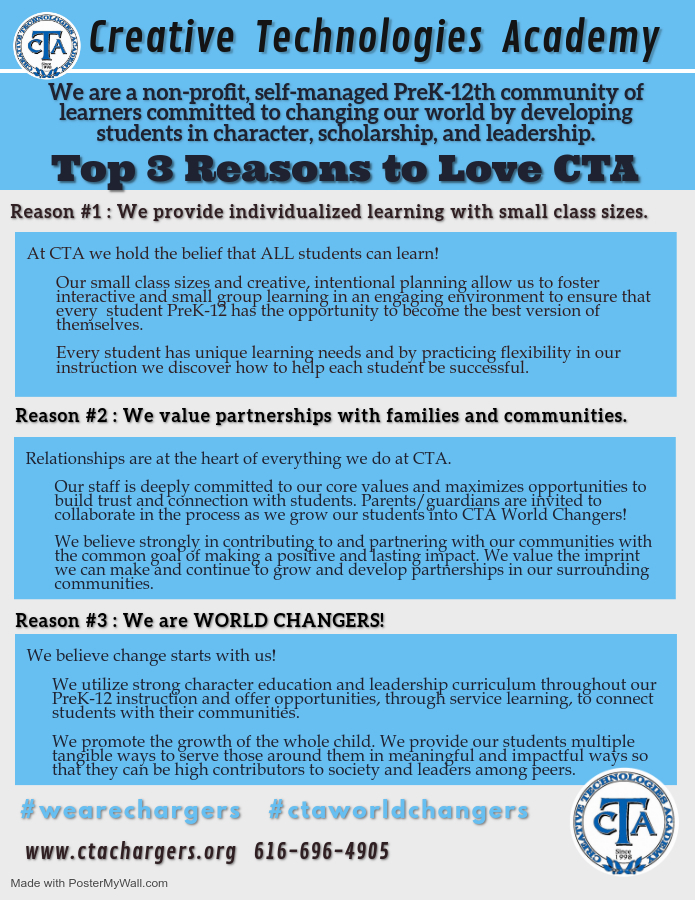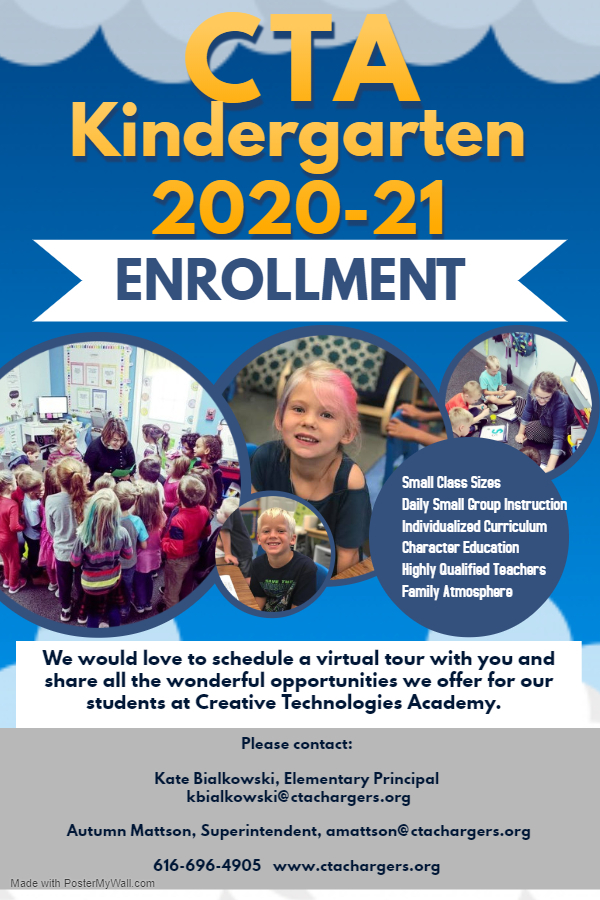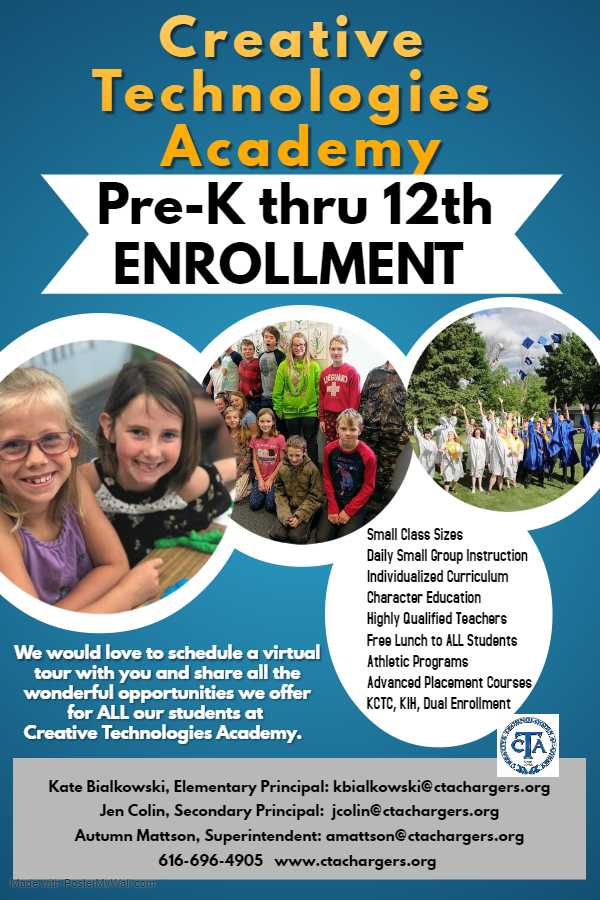 The Public Posting for the April 22, 2020 Board Meeting can be found here:
https://5il.co/f2dx
.

This week @ctachargers we recognized all of our elementary students that had perfect attendance for the month of February!!! Each month we recognize our students and give them a small gift to remind each of them that they are a WORLD CHANGING CHARGER!! #perfectattendance #wearechargers #weareworldchangers @buildingaloveoflearning @mslaneslearners @teachermom4life @soarhighgradefive @funlovingfourthgrade @cultivatingcourageouschargers @charterschools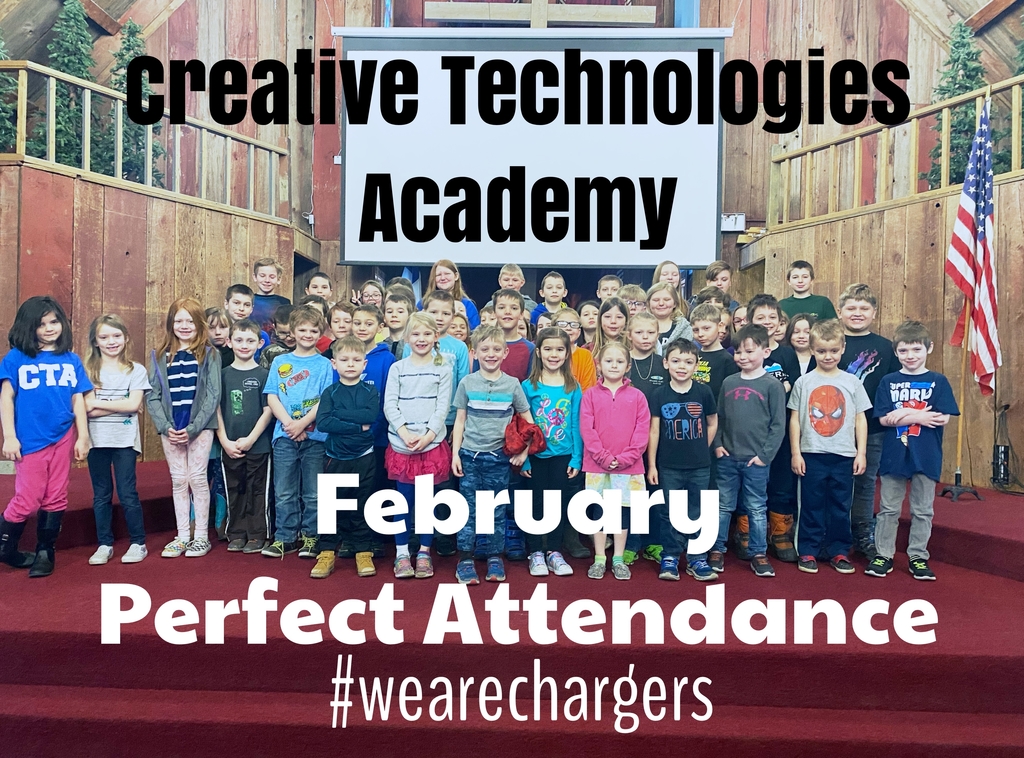 UPDATE: KCTC, KIH, and Launch U students— You are excused tomorrow BUT if you want to attend you can still ride the bus or drive yourselves.

Each month we focus on one of our CTA character traits. In the month of January, we focused on having a GROWTH MINDSET. Every day our students get the opportunity to demonstrate our character traits and our staff and students can give them character trait cards and place them in our character trait buckets that are in our elementary entrance!! Every week we take the opportunity to recognize our students that we have seen demonstrating the qualities of being a CTA CHARGER!! Each month we draw six students that will get to have a special lunch with our elementary principal Mrs. Mattson @cultivatingcourageouschargers We had a great month at CTA focused on demonstrating what it takes to have a GROWTH MINDSET. During the month of FEBRUARY we are discussing, reflecting, learning and demonstrating the character trait of EMPOWERING!! @ctachargers @cultivatingcourageouschargers @mslaneslearners @soarhighgradefive @funlovingfourthgrade @buildingaloveoflearning @teachermom4life @charterschools #wearechargers #weareworldchangers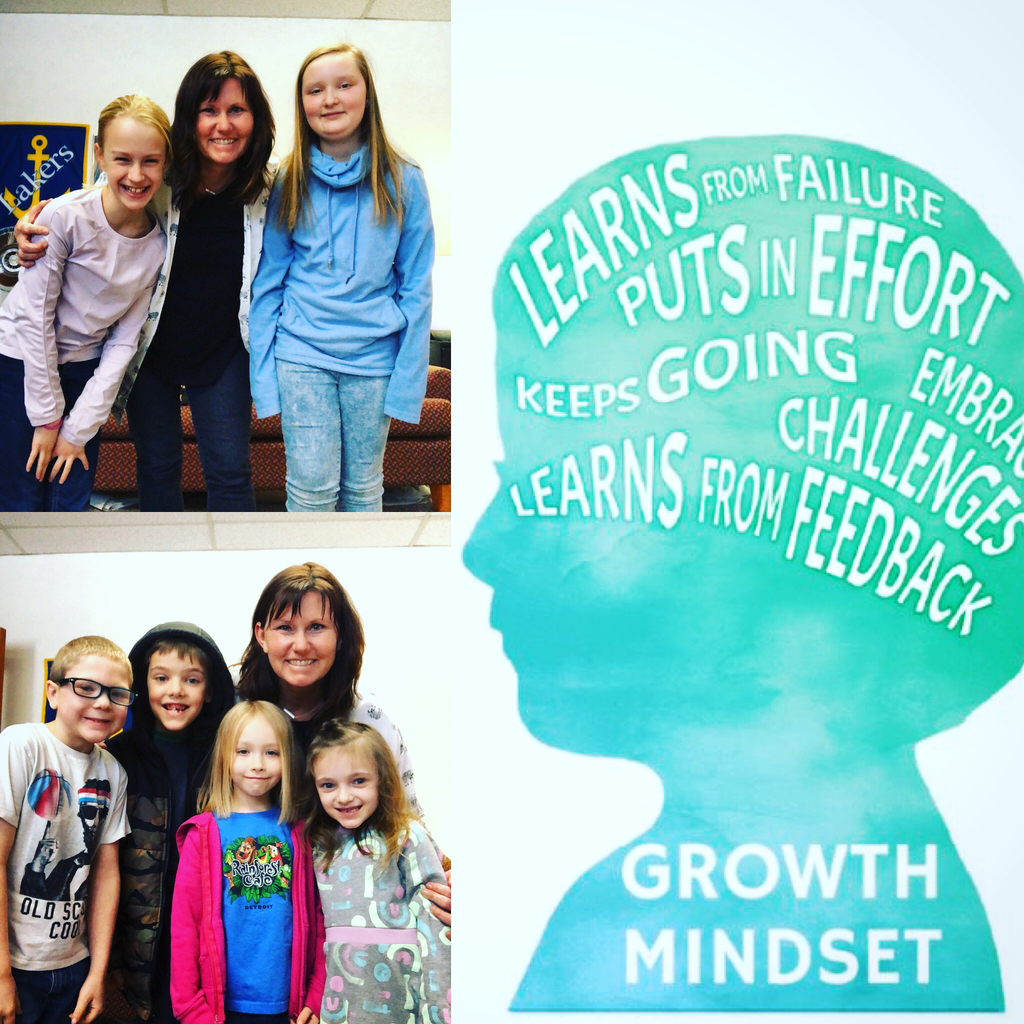 CTA is proud to be one of only 639 schools from the 20,000 that offer AP classes to receive this recognition!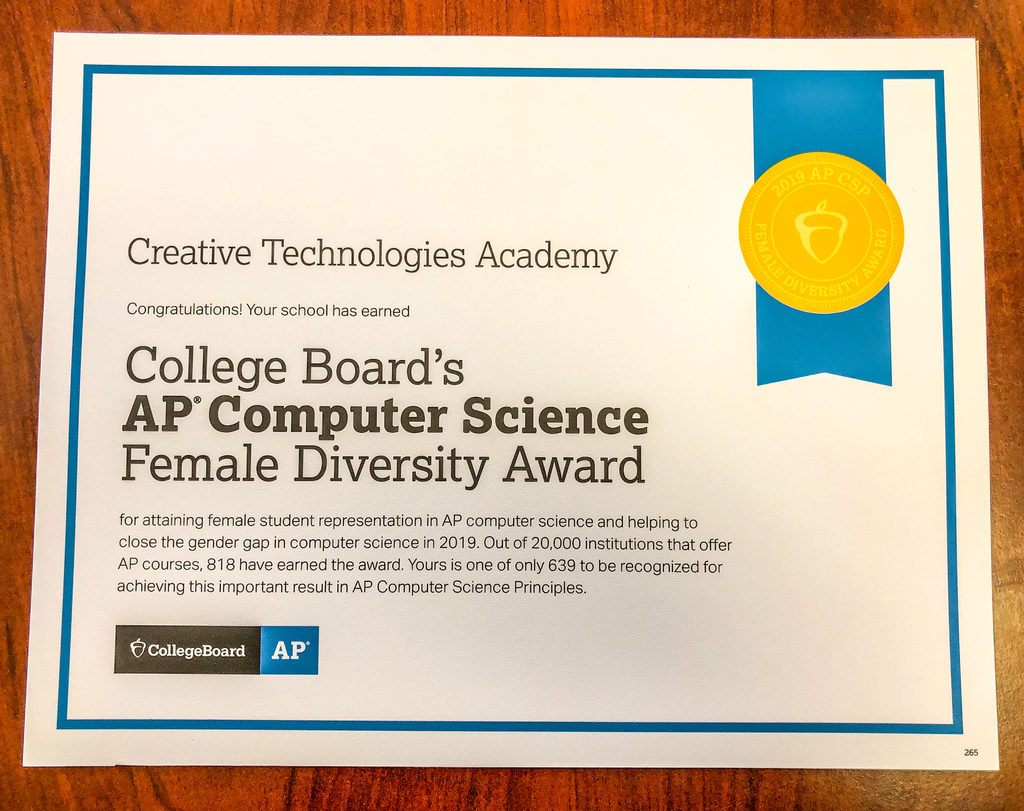 This week we recognized all of our elementary students that had perfect attendance for the month of January!!! Each month we recognize our students and give them a small gift to remind each of them that they are a WORLD CHANGING CHARGER!! #perfectattendance #wearechargers #weareworldchangers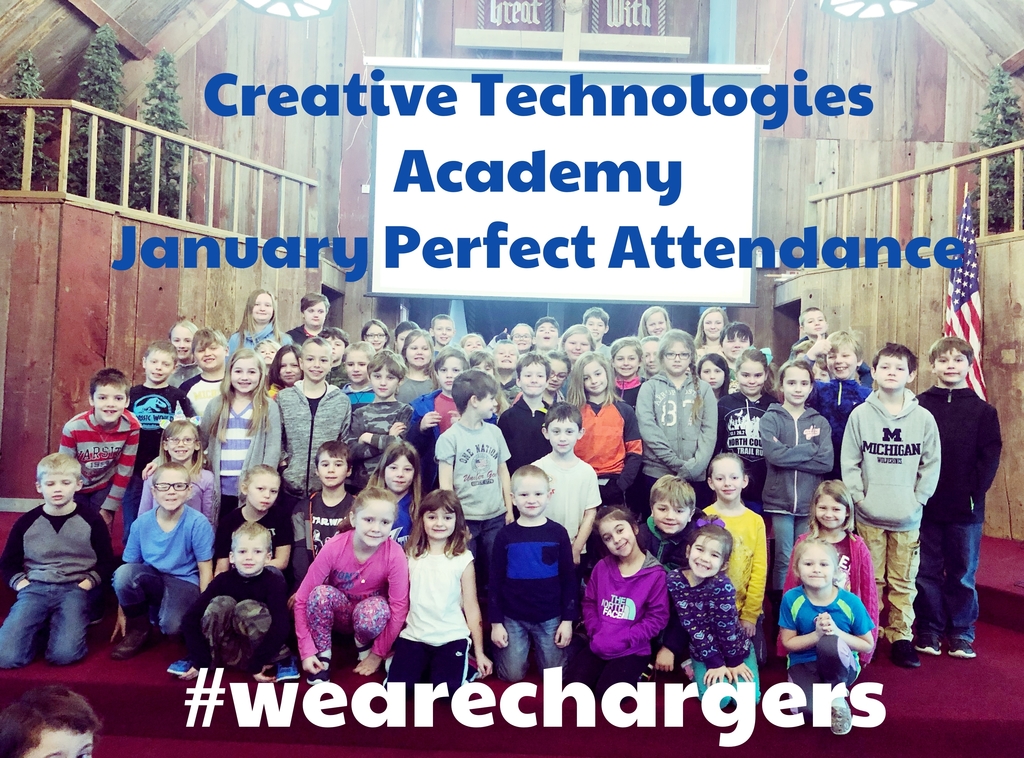 Did you know January 26 - February 1 is National School Choice Week? School Choice Week celebrates that families have the opportunity to select what works for them from a variety of K-12 options, including public charter academies like CTA! (Shown: 5th graders sporting their School of Choice scarves!)